Michael johnson
6th Duan Master, 38th Chief Inheritor of Emperor's Longfist, Shaolin Five Family Fist, Wei Shi Chuan, and Zi Ran Men Kung Fu
-Master Michael Johnson, Sifu has been training for 29 years in the Martial Arts.
-PhD in Philosophy in Traditional Martial Arts from International Theological College
-PhD in Metaphysics from International Theological College
-Elected President & C.E.O. of Cloud Forest Chin Woo Association
-Elected President & C.E.O. of Cloud Forest Chin Woo College of Martial Sciences
-Co-Founder of Greensboro Martial Arts Academy
-6th Duan Shaolin Kung Fu
-6th Duan Emperor's Long Fist
-4th Duan Zi Ran Men Kung Fu (Natural Fist)
-4th Duan Indonesian Silat
-Certified Chin Na Master
-Kuo Shu Level A Ranked Judge
-Certified & Licensed Neuromuscular Medical Massage & Bodywork Therapist
-National Board-Certified Massage Therapist
-Certified Qigong Master Teacher
-International Cupping Association Member
-Certified Cranial Sacrum Therapist
-Certified Body-Talk Therapist
-Reiki Healer Master Level
-2020 Recipient of Masters & Pioneers Who's Who Martial Arts Hall of Honors Award
-2021 AMAA Changing Lives Series Martial Arts Biography Book
-38th Generation Inheritor of Emperor's Long Fist, Five Family Fist Shaolin & Natural Fist
-Recipient of the 25th year appointment of Cloud Forest Chin Woo Association Chairman
-Certified Iron Palm & Iron Body Teacher
-Official rank of Zong Nan Jue, 3rd Degree Baronet
-Feudal Military Rank and Title of Chuang Yuan
-Member of International Dragon's Society
-Member of International Martial Arts Federation
-Member of Wah Chiao Guo Ji Hui (Overseas Chinese Martial Arts Association)
-Member of World Chinese Martial Arts Federation
-Member of Golden Lion Kuo Shu of Taiwan
-Member of Wei Family Style Tai Chi Association
-Member of Indonesian Pentjak-Silat Association
-Member of International Shaolin Wu Su General Committee
-Master Teacher of Taoist Internal System of Qigong, Metaphysics, and Meditation
-Trained in Judo, Jujitsu, Okinawan Kempo, Modern Arnis, Small-Circle Jujitsu
-Personal student of Bruce Juchnik, Kosho Ryu Kempo
-Private student of Rick Ward, Founder of Blue Ridge Kung Fu & Arnis Academy, Vice-Pres CFCWA
-Sei Kosho Sorei Kai Okuden Member
-Discipled under Wei Jung Dao (Guardian of the Middle Way)
-Professional background in criminal justice, theatre performance, theatre management, theatre education & Stage Combat
-Over 35,000 hours of professional healing arts practice

"Martial Arts saved my life. It gave me purpose, and it's kept me grounded in a world that creates a lot of hate, and discrimination."

I have always been the kind of person who stands up for others, wants the best for those around me, and tries to bring all my friends along with me towards success. I have seen the hardships of life through loss, homelessness and tragedy, but I have also experienced how wonderful life can be, the promises it brings with every morning that I open my eyes.

My first kung fu school taught me the value of learning to heal as well as harm. We learned pressure points for destruction, but also for healing. It was a nice balance, but I didn't see the true value in it or my training when I was a teenager. I didn't understand how patient and kind my first teachers were, and how much they would influence me as I aged into adulthood. Now that I'm grown and matured into the man who is president of the martial arts association I was a member of when I was a kid, I can see the value in what these incredible men put into me. How much my first teachers cared for my well-being, my emotional health, and my physical martial training is over-whelming. I owe them so much, and yet, it's a debt they don't accept for themselves. They merely wish me to do the same for future generations.
Accepting the role President for the Cloud Forest Chin Woo Association sounded exciting, as though I've finally arrived at the place I was meant to be, as if I've worked so hard for the position. Only I've come to realize that what I've worked and trained for isn't the position, but the opportunity to help the martial arts community grow, and to become more grounded in the martial sciences. It seems no matter what I've learned in my past, I've only more to learn for the future. We all have much to learn from one another, and to keep the spirit of sharing and training alive within us. This is the only true way martial arts will continue to grow and strive, carrying with it the traditions of the past, and looking for the modern innovations of the present. We are now one year passed the covid-19 pandemic, and the world seems to be bleeding from the inside out. We've seen loved ones lost due to covid infections and the loss we feel is tremendous. As a society, it seems we have become more violent, more judgmental, and even more isolated than we were before. We had to close the association and school down for nine months, and we felt the loss of community and our martial spirits were almost crushed. We are now opening our doors again, and students are beginning to trinkle in, slowly at first and with much fear built from what the pandemic did to us all. But there is hope, and with that hope we will begin anew, choosing to lift each other up and rebuild the martial arts community that we once had and to grow it larger with vigor energy of love and support. This is the essence of Chin Woo, to build a strong community of people who want to be healthier, to explore the true boundaries of the human potential and to push through those boundaries to new heights of skill, speed and strength. I am the third President of the Cloud Forest Chin Woo Association Head Quarters since it was given to my Master's Master, in 1979. The Republic of China's Tai Chi Chuan Association appointed Grandmaster Chao Yuh Feng as Director for Yun Lin (Cloud Forest) County. Born in 1910, he trained Wu Tang Ti Pai and Bai Ma Si (White Horse Temple) Style. He then learned Tai Tzu Chang Chuan from his Uncle, Chao Jung Dao, the 34th Patriarch of the system. By the time his uncle passed, GM Chao had already inherited the system and become the 35th Patriarch. In the early 1980's, he moved to California with his family, and met my Sifu, David Kash, who was a student of Wong Ark Yuey, at the time. After several months of communicating with GM Wong, Feng accepted David Kash as his personal student. Grandmaster Kash became the 36th Patriarch of the Emperor's Long Fist & Zi Ran Men Systems and accepted the Cloud Forest Chin Woo Presidency in 1995, one year before GM Feng passed away. In 2019, Gm David Kash retired from the Cloud Forest Chin Woo Presidency, and I accepted the role with hopes of leading the association into a new modern world filled with technology, and new emerging ideas of martial study. In 2020, he also accepted me as the 38th Patriarch of Emperor's Long Fist & Zi Ran Men Systems of Kung Fu, along with the Taoist systems he teaches. At the beginning of 2021, he signed me over as the Chief Inheritor of Emperor's Long Fist, Zi Ran Men, the Taoist Internal System, and Shaolin Five Family Fist, along with the Internal Iron Palm System, and the Martial Military Ranking Systems under the Royal Bodyguard Systems.
Now here I am, typing away what I hope is an interesting biography for everyone, so that they can know me and understand me a bit more. In truth, I am a simple person, who loves teaching martial arts. I've never had interest in being the toughest, or the strongest or even the best fighter. I am very proud of my students when they surpass me in skill, and I hope that I continue to keep that humbleness about me well into my old age. There is freedom in just wanting to pass down the traditions of an art, it takes the stress of ego out of the picture and let's me just 'play' every day that I'm at work. I've been a healer professionally for almost 20 years now, and sometimes it takes me a few moments to realize that I've been training to harm people for an additional decade. For a student of war, who loves well-performed violence, I don't have any good feelings towards hatred, or discrimination or bullying. I find these acts shameful, dishonorable and worthy to be wiped out through better education, martial arts training for self-esteem and reinforcement of self-confidence building drills. People are so angry because there is so much fear in them. There's a lot to be afaid of, but with continued perserverance from those in charge of such things, we can train up our future generations not be be so afraid.
Ever visit Tweetsie Railroad? I spent 10 years of my life working there.
I also spent a number of years doing theatre performances and dance performances. There were a number of ballet videos...shame they all seemed to disappear from the planet (it's not like I was good at ballet!)
Old' school practice session, the first time we had taken all the choreography and ran it all at once for this piece. For those of you in this video, I hope you enjoy these times with fondness. Youth and naivity make for great memories filled with passion and creative happiness.
When I was a Senior in Highschool, I was nominated as Student of the Month. (basically it was my turn in the rotation randomly chosen). But because of that I was 'interviewed' by the local Newspaper. In that very brief article, surrounded by one of the most akward pictures they could find of me, I was quoted saying: "I wanted to find the treasure inside of others, and show them that they were more valuable than Gold itself."
I've always been optimistic, thinking the best in others. I still have that quality, but now I see it's relevance and importance in today's world. Now I try not just to find the treasure in others, but I teach others how to do the same.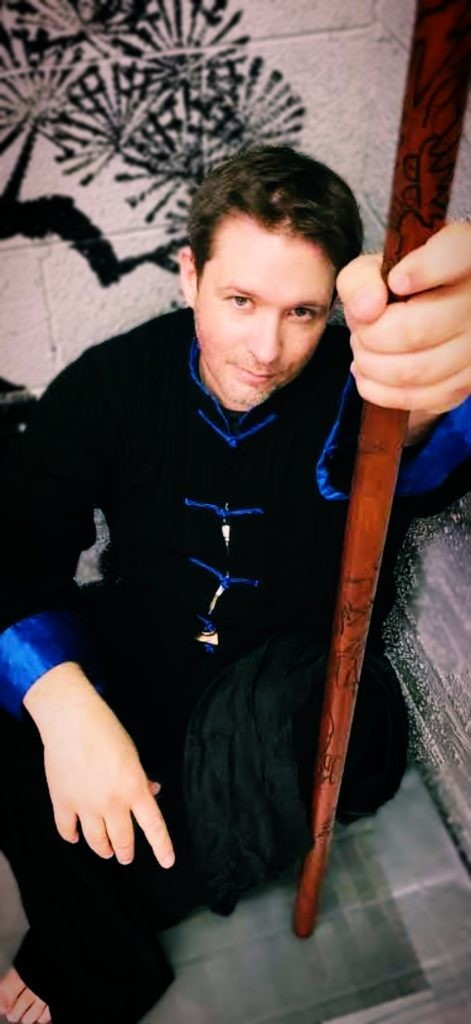 I'm not the representation of what Cloud Forest Chin Woo Martial Arts Association and College are...I'm here just to help others be that...the community is who we really are, and we are great people to get to know. If you are searching for a martial arts community to belong, come join us, in person or online. We are great friends to have in this life. And we know you will be a great addition if this kind of community sounds appealing to you.